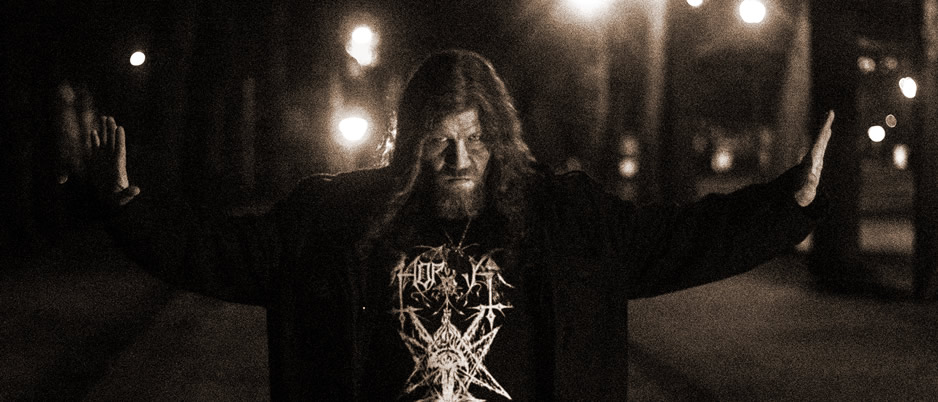 SOURCE – Lupaus is the new album – what goals did you set in the development and songwriting for this record, and how do you feel about the overall outcome in comparison to the rest of the Ajattara discography?
Pasi Koskinen (Vocals, Guitar) – First of all the main goal was and is, to make the best out of your arse. It must be the music you love most. We all are very pleased about an outcome as we all enjoy it truly in most generous ways. It feels the same after every album and that's the way it should be, in all manners.
SOURCE – Could you also discuss what went into your recent video for Ave Satana?
Pasi Koskinen (Vocals, Guitar) – As I realised this question as you asked, the whole video is made by AJATTARA's own axe demon Kalmos who did the script, directed it, did a cast etc. All the actors are our friends so we had some fun together and it came out as a video "AVE SATANA". At "NOITUMAA" album has a song called "SAATANA PALVOO MEITÄ" and it means that "SATAN WORSHIP US", so we give her something back with "AVE SATANA".
SOURCE – 20 years and eight albums in – what are the challenges that come about with playing metal?
Pasi Koskinen (Vocals, Guitar) – Make metal just to please your self. When it's a time to take care of your own, the Black metal is the only way to reach the level that you demand to be yours.
SOURCE – Things have changed so much with the decline in sales, and now the emphasis on streaming instead of actually buying physical things. How do you even determine, from your end, if an album has been successful or not?
Pasi Koskinen (Vocals, Guitar) – Most of all we are a LIVE band, and possessed to entertain. Going trough very bad things you realise the world as it is. Some will get it as a danger, some takes it all the time. It is the only way to sing and tell about an evil that man do as you make Extreme music. Life it self is a chart.
SOURCE – Given the actual saturation of the metal scene, what do you think makes you stand as an act people would want to listen to and see live?
Pasi Koskinen (Vocals, Guitar) – I still, after all, trust in honesty, when it comes to make the final decision, when you take your own side. Others come along. As I said, It is to get to see ALIVE, then you understand. I can't say it any better way to show how important and everything is to play ALIVE to me and my band.
SOURCE – What do you think is the most difficult aspect of being an extreme metal band in this region?
Pasi Koskinen (Vocals, Guitar) – To get to people to understand. I mean to understand that it is not about others until you find yourself to get to help the others to please yourself…
SOURCE – Who are some of the artists or bands that you would consider benchmarks as far as how you view their career outlook, discography, or presentation/performances that you guys as a band aspire to become, and why?
OZZY OSBOURNE AND THE BLACK SABATH, ELVIS PRESLEY, BRIAN ZETZER AND THE STRAY CATS, CRONOS AND THE VENOM, LEMMY AND THE MOTORHEAD, CURT COBAIN AND
THE NIRVANA, FRANK ZAPPA, QUORTHON AND THE BATHORY, RUOJA AND THE AJATTARA, COUNT KRISNACK AND THE BURZUM, NIKKI SIX AND THE MOTLEY CREW, JEFF WALKER AND THE CARCASS, LEE DORIAN AND THE NAPALM DEATH, JIMI HENDRIX, TOKELA AND THE MELROSE… to name a few…
SOURCE – Any further plans coming up you'd like to talk about?
Pasi Koskinen (Vocals, Guitar) – We gonna make as many shows as it's possible and go further into darkness that dwell inside of us. There's couple of videos coming soon.
Contact:
Ajattara
Video: