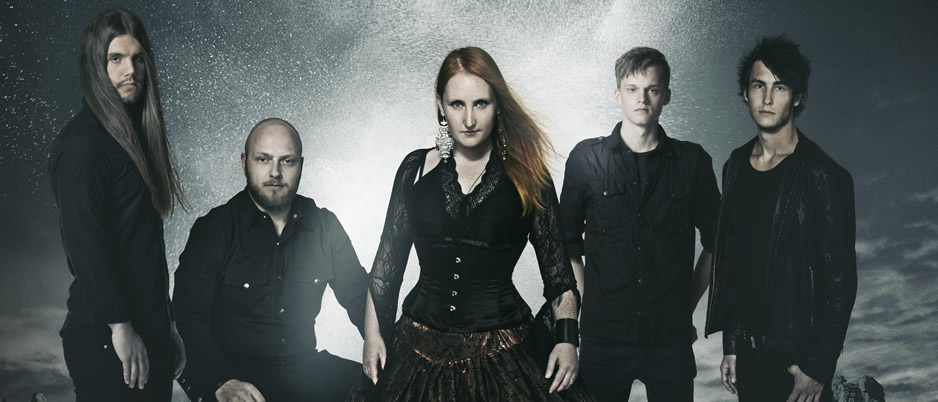 SOURCE – You've had a couple lineup changes since your last album. How did guitarist Andreas Pedersen and drummer Rune Frisch come to join the band?
Morten Bell (Guitars) – Yeah, we have had a few changes throughout the years – simply because that the previous members did'nt want to "conquer the world" if you know what I mean. And actually we're in search of a new drummer, as Rune has decided to follow a other path. Andreas is a friend of Rune, so when we decided to have an extra guitarist, something we actually have wanted a while, Rune called up Andreas, and now he is a member of Akoma.
SOURCE – How did the songwriting and recording process for Revangels compare to your previous albums?
Morten Bell (Guitars) – It havn't changed that much songwriting-wise – hopefully we're getting better at it, but it's still the same way as we always have done.
The recording process, is so much different dispite what we are use to. We use to record our selfs with me in the producer chair, but decided to take it abroad to Germany this time and record the album at MASTERSOUND Studios in Steinheim, and with Alex and Tosso to produce the album with us. Not to say that they did a lot of changes or so, but I believe that they brought out the best of us.
SOURCE – Do you have specific expectations for album, like sales numbers or chart positions?
Morten Bell (Guitars) – Of course we have lot of hope, you never know if peopel are going to love it or hate it.
Hopefully theres not a lot of hate in this genre, it always seem that there is space for a new album. But we surdenly hope that people will buy our album. We have spend a lot time, tears and happines with this album, but never the less, we will be happy, because we love the result. We don't aim to get high chart placings e.g. It's seems so beyond, but we hope that the album will be succesfull – for our sake, but also for our label to have made a good investment.
SOURCE – Have you filmed any videos for this new CD?
Morten Bell (Guitars) – Yeah, we have done for the title song of the album, Revangels – and it's featuring the lovely Liv Kristine. We really had fun making this video, and it gave us memories that we'll never forget. We will do a couple more videos very soon…
SOURCE – Since the Internet makes life easier for people living far away from each other: did you guys actually rehearse the songs during the song writing process or did you send each other digital music files?
Morten Bell (Guitars) – A combination, we do not rehearse regularly, so the members has to rehearse the songs them selves at home – we do then meet up ones in a while to try out the tracks, and figure out some pieces, or implatating new ideas e.g.
SOURCE – The music industry seems to be putting a lot of emphasis on a band's Facebook status, with bands getting signed based on how many 'friends' they have, or how many plays they get per day. Do you see this as having a negative impact on the scene integrity, or as a way for bands toeasily get attention?
Morten Bell (Guitars) – The label has to see it as a business, and a matter of fact is that the band has to do as-well.
So ofcourse, if the label is basing their signing on facebook likes, it's
understandable, there must be customers then. What's right and wrong is up to the label.
SOURCE – What's the music scene like in Silkeborg?
Morten Bell (Guitars) – Haha, not worth mentioning – there's a lot of cool bands asociatet with Silkeborg, like Dawn of Demise, Illdisposed is rehearsing here, and Hatesphere has had a member from Silkeborg – but theres no 'scene' here unless you want to play for 40 people.
SOURCE – Thanks for taking the time to allow me to interview you. Do you have any final words for the people at home?
Morten Bell (Guitars) – Yeah, thanks lot for supporting Akoma and hope that we will have the chance to visit your great country soon! All the best!
Links:
Video: