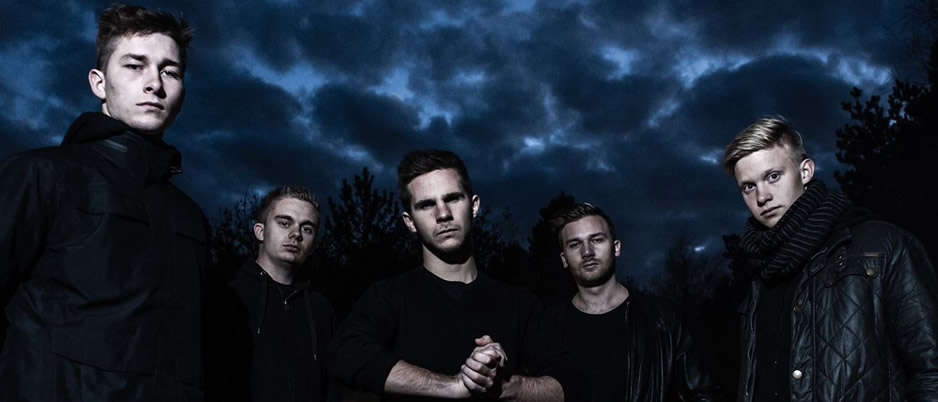 SOURCE – Aftermath is the new album – how do you balance the band's desire to come up with fresh material in a creative manner while also keeping in mind the expectations that the long-term fans of Aphyxion have?
Michael Vahl (Vocals) – Well, it's quite simple actually. We can only make music, as long as we feel inspired ourselves. So we had to drop most of the outside expectations in order to find ourselves and the genre we want to play. That's also why Aftermath is such a radical change in our genre – we didn't want anyone else to have a say in what kind of music we played. Luckily almost all of our fans has welcomed the new album better than we could have ever wished for.
SOURCE – In terms of the concepts and building album upon album, how much of an emphasis is made that the lyrics tie-in to each album?
Michael Vahl (Vocals) – The theme of the lyrics hasn't changed much on the new album. We don't do any lyrics about blood, guts and violence, but use them to depict the decline of mankind, both ethically and in terms of our constant contamination of the Earth. However, the lyrics on Aftermath has a more solution-seeking approach to the problem, as seen in contrast to the hopeless and melancholly approcach on our debut album, Earth Entangled.
SOURCE – Was there anything else that you felt that you tried to expand upon with Aftermath, as opposed to your previous albums?
Michael Vahl (Vocals) – We've been experimenting alot with melodies and hooks on Aftermath. We brought in a session keyboard-player called Kim Olesen, who did a fantastic job. We made a couple of workshops with him, which completely changed the sound of the album. This is the first time we use electronic music and keys in our music, so that was quite a radical change.
SOURCE – You recorded a video for the song Destined To Fail. Why was this particular track chosen?
Michael Vahl (Vocals) – We had to make some kind of guess as to which of our songs had the most ential. We ended up picking Destined to Fail, as it was the favorite song on the album for most of the members.
SOURCE – Does Aphyxion have any goals that they would like to reach as a band?
Michael Vahl (Vocals) – Hehe, yea, quite a lot actually. We've been touring Denmark a lot of course, but also had some smaller European tours before. The next natural step for us, is to try and make it bigger in Europe – build a bigger fan base and do some tours.
SOURCE – What can you say in regards to the Ribe metal scene that the band has been a part of for so long?
Michael Vahl (Vocals) – Ribe is the oldest city in Denmark but only has around 10.000 inhabitants. But for some reason that none can really explain, there's always been a big metal scene. There are tons of great bands hailing from this particular city, and some of them has been a big part of forming the Danish metal scene back in the late 80's and 90's. Bands like Sacrifical, Caustic and Autumn Leaves all has roots in our old town.
Right now we have promising bands like Non Divide, Rise Upon and 7ATEM that all are going to make it big in Denmark.
SOURCE – Is there anything that you'd like to see Aphyxion accomplish that you haven't gotten to yet?
Michael Vahl (Vocals) – We'd definetely like to go on a European tour with some bigger bands. We just had a dream come true the other day, when we were told that we were picked as support for Metallica when they hit Copenhagen in 14 days time – so I guess that's one off the bucket list!
SOURCE – Is there anything else you need to mention?
Michael Vahl (Vocals) – Stay heavy guys – I hope we get to visit your beautiful country and play some kick ass shows for you some time!
Link:
Video: