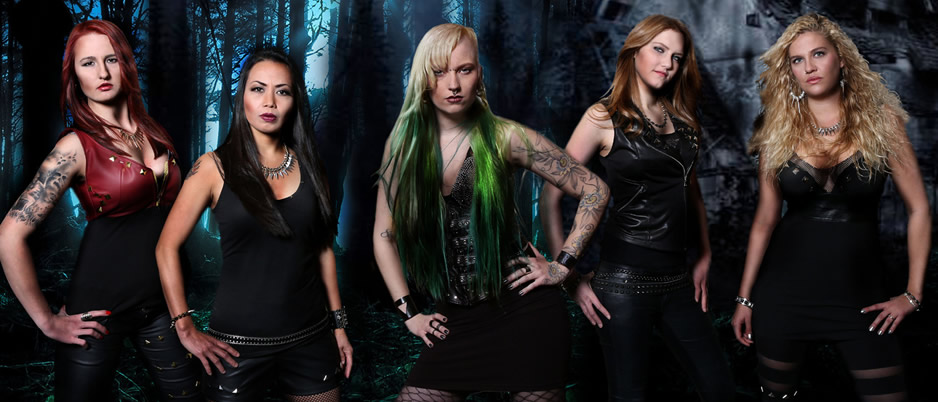 SOURCE – The debut album has been released for a few weeks now, how do you feel it has been received?
Seraina (Vocals) – We are very happy. We have sold many CDs and a lot of merchandise items! The reactions were much better than we expected. We are thrilled!
SOURCE – What types of goals do you set for Burning Witches? And how do you define success at this point?
Seraina (Vocals) -Our goals are to inspire many people with our music. So far we have reached much more than we could ever imagine already.
SOURCE – What are your thoughts on the metal scene today?
Seraina (Vocals) -Who would you consider some of your role models or benchmarks that you would like to mirror their outlook, output, or professionalism for comparison's sake? We like the oldschool sound. I'm not happy with the new trends of the metal scene of today. My favourite bands are: Iron Maiden, Judas Priest, Testament, Exodus, Destruction, Gonoreas, Sepultura, Iced Earth etc.
SOURCE – If you had a chance to wave a magic wand and change any aspect about the music business model of today, what would you work on first and why?
Seraina (Vocals) – I know a lot of good bands from different countries who are all very talented but have no chance to get more concerts and success etc. It can be very unfortunate to surivive in the music scene without contacts and without money. When I would have the chance to wave a magic wand, then I would help ALL those bands! Hardworking musicians need some benefits and recognition… for he sake of Rock N Roll.
SOURCE – How would you describe the personalities and friendships within Burning Witches? Do you believe it's important to hang out as friends outside of music related activities?
Seraina (Vocals) – Of course, we are all very different. Everyone has their own character but the relationsship between us is really good. In the spare time we go to concerts and in bars together, we party together and hang out. We have fun beside the rehearsal studio as well… that makes a good band.
SOURCE – What obsessions or passions do you like to pursue when you have the free time away from music – and do any of the band members share in some of those interests?
Seraina (Vocals) – We are sharing our sparetime often as well and do the usual girls stuff like concerts, styling or shopping. But we also like American muscle cars, driving & of course hanging out with our friends.
SOURCE – What is the worst piece of advice you hear or see being dispensed in the metal world?
Seraina (Vocals) – I only listen to advice from those people I trust! As soon as somebody person comes to me and tells me what to do or to wear on the stage – I am not listening. This is a business of envy, so you gotta be careful. We play the music we love, nobody can change anything! We are not puppets – we are a Metal Band with an aim!
SOURCE – Thanks so much for talking with me. Anything else you wanna say?
Seraina (Vocals) – Thank you for your interest and for the interview! It was our pleaure!
Contact:
Videos: