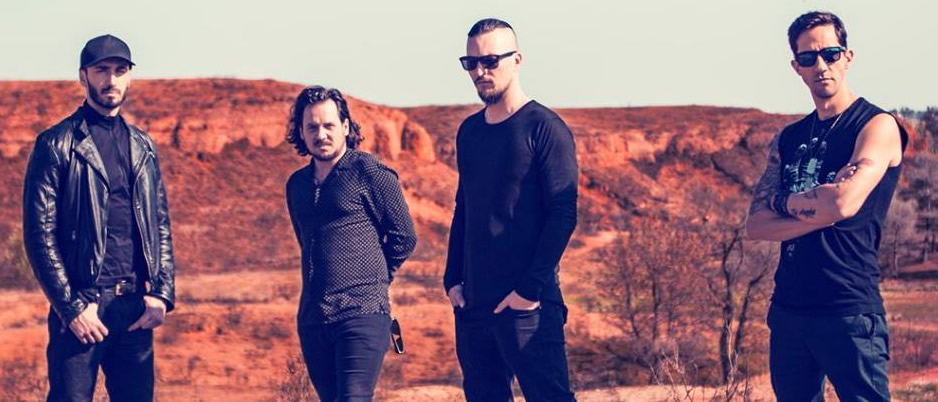 SOURCE – How did you feel your Black Nova album turned out – what takeaways do you have about the recording sessions and final product?
Shawter (Vocals) – I feel great now the job is done! Composing, recording and mixing Black Nova was a super cool time, so now I can't wait for it to get released.
This record is probably our heaviest one, and the production is sick. The artwork is in total adequation with the lyrics and the musical atmosphere.
SOURCE – What do you feel some of the biggest changes are for Black Nova compared with Tales Of The Black Dawn?
Shawter (Vocals) – Tales of the Black Dawn is our most brutal album, on Black Nova tempo are slower, and it's very constrasted. Some part are very dark, and some are very lightened. The add of machines is totaly different on those two record.
SOURCE – Anything you can say about the video for Inner Sun?
Shawter (Vocals) – We shooted the studio footages in are HQ, and the outdoor ones nearby our hometown Marseille. We wanted something very stellar, and I think this special landscape works good enought for this. Brice Hincker is a very talented French director, and we will release another video soon.
SOURCE – How do you define success – and has the outlook changed over the evolution of Dagoba?
Shawter (Vocals) – To me, success is when you can feed your children with a job wish is your passion. I kept the same old friends since the beginning of my life, and I don't really take attention of the social network, it's better to keep your feet donw on earth.
SOURCE – Do you find equal footing in influences that are both metallic and electronic/industrial?
Shawter (Vocals) – I think I'm now listening an equal part of music I like, and it can come from any movement. From Metal to Industrial, Electro to Classic, man… I also listen to Seu Jorge haha! But when composing time is coming, I stop listening to music, trying to get less influences by other artists. It's our seventh record, people know about our own style. This crossover between power Metal, Black Metal, Indus and Symphony.
SOURCE – Do you find it to be tougher to gain more of an audience with a more unique sound that blends various genres?
Shawter (Vocals) – I don't know, I think music should be sincere, and if people follow you, then it's cool.
SOURCE – What are your thoughts about the France metal scene? There seems to be a wide array of styles and killer musicians, plus a strong support network to increase the profile of these groups between clubs, promoters, and the bands themselves…
Shawter (Vocals) – The scene here is cool, but it's still hard to leave from Metal in here (maybe two or three bands here are doing it). We are friends with every bands here, it's always cool to meet them on the road, and I hope we all become bigger and bigger of course!
SOURCE – Thanks for taking the time to allow me to interview you. Do you have any final words for the people at home?
Shawter (Vocals) – Brazil, I can wait to come to rock you!
Contact:
Dagoba
Video: