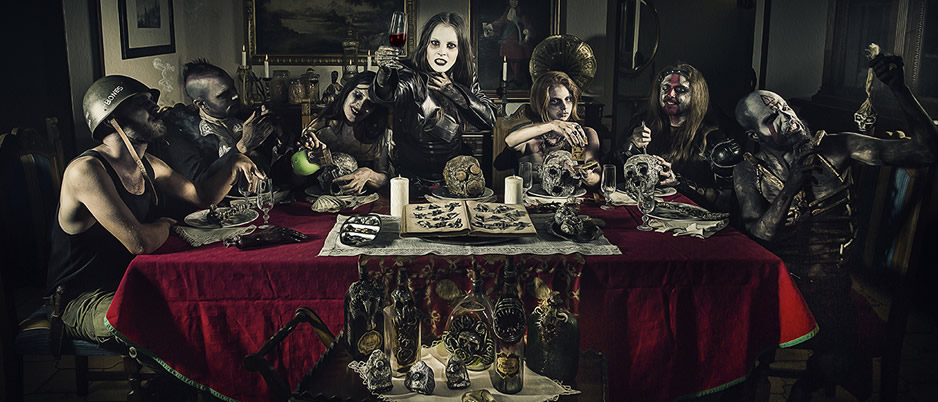 SOURCE – Dance With Devils is your latest effort – was there anything different that you were trying to do with this album than your previous efforts?
Steva La Cinghiala (Vocals) – Dance With Devil was different from the very beginning. It is "The Gathering"'s child, it is more metal, but it was spontaneus. We didn't plan anything, we just had a couple of riffs and ideas we developed and so everything started.
SOURCE – What led to the attitude shift to make Dance With Devils a more positive album?
Steva La Cinghiala (Vocals) – Dance With Devils is about horror, satanic stuff and witchcraft. We wanted to make people see those themes from a different point of view. Evilness is needed in life, evil is all around us. Sometimes we define evil what is unknown, and to let you understand it is one of our purpose.
SOURCE – Was there anything that you wanted to see the band accomplish with Dance With Devils?
Steva La Cinghiala (Vocals) – We wanted to give Dance With Devils and the band a stronger personality. This album is much more creepy and evil than The Gathering and Rise From the Grave. Isn't it?
SOURCE – Nowadays in every album the person responsible for the sound production is strongly mentioned especially when he is a known one. How important do you think is the producer to the sound of a band?
Steva La Cinghiala (Vocals) – The producer is really important to the sound of a band. The sound represents the band from many aspects, that's why is important to care for it.
SOURCE – Have you filmed any videos for this new Dance With Devils CD?
Steva La Cinghiala (Vocals) – Yes, the official videoclip for Witches' Brew was released on January 18th. We also released the lyric video for Headless Horseman at the end of December.
SOURCE – The album Dance With Devils has been met with some favorable critical reception since it was released. Do you pay attention to what the critics have to say? Or could you care less?
Steva La Cinghiala (Vocals) – The critics' opinion is of course important, we read every reviews and we try to understand all the matching points highlighted by everyone.
SOURCE – With a sound that feels unique and headed in fresh directions, is it troublesome to be saddled with a female-fronted tag?
Steva La Cinghiala (Vocals) – We don't tag ourselves as a female-fronted band, but as a horror metal band. Of course the first thing everyone notice is that there is a female singer, but after a couple of moments people realize that she's a beast, a monster not a "common" title.
SOURCE – The way the music industry has evolved with album sales declining, playing a lot of live shows has become vital for many music artists to be able to survive. What's your opinious about it?
Steva La Cinghiala (Vocals) – We agree. That's why we can't wait to start our "Dance With Devils" tour!
SOURCE – Speaking as a fan, we always have this small hope that we're remembered by our rock idols. Do you have a moment with a fan that has impacted you?
Steva La Cinghiala (Vocals) – Our "fan" become our friends after a couple of beers and some chit-chat together. One of our crazy friends, during "The Gathering" tour, gifted us a lot of Nutella and other Ferrero stuff, he always came with a big bag full of sweets we used to eat for breakfast the day after the gig!
SOURCE – Thanks so much for talking with me. Anything else you wanna say?
Steva La Cinghiala (Vocals) – Thank you so much for the nice talk, let your devils dance!
Links:
Videos: