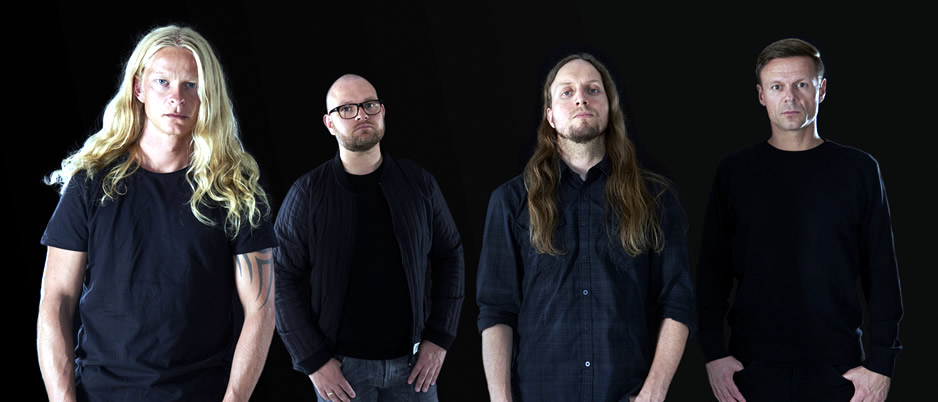 SOURCE – Where do you see the differences between Aspirations of Failure and your first release. How would you describe the record to your fans and how to the ones that doesn't know Killing Gandhi?
Kasper Gram (Bass) – The writing process is definitely something that stands out. When writing our debut album "Cinematic Parallels" we had never done a melo-death album before, and we didn't even know what kind of vocals we were aiming for, since we found Thorbjørn after all the songs on the album were done.
It was way easier to write "Aspirations of Failure" having in mind what each musician of the band was capable of. The songs are individually strong and the whole structure of the album and the songs are just a little bit more worked through this time.
SOURCE – In what context does the album title, Aspirations of Failure, stand to your songs?
Kasper Gram (Bass) – The songs of the album are about 2 men facing dark and difficult times in both their personal and professional lives. Some is fiction and some is built from Martin's personal experience when he recently suffered from a major depression.
Seen from another perspective this is also our second album, and you are always told how difficult it is to do the follow up after a successful debut album, so you kind of almost "expect" to fail on this second release.
SOURCE – Let´s talk about the recording process of Aspirations of Failure. Did you enter the studio with complete songs or did you change, rearrange a lot?
Kasper Gram (Bass) – When we entered the studio to start on the drum recording as being the first step in the production of "Aspirations of Failure", all the songs were already done and we kind of knew where we were going. We never really faced any critical points when recording the album, since everything was well thought through before entering the studio, making the process smooth, but busy!
SOURCE – As far as influences or inspirations go, who could you say had the biggest impact on your music from past to present? Even before that, what made you first want to pick up an instrument and play music?
Kasper Gram (Bass) – Hmmm, for me personally, I've always been a big fan of melodic metal and power metal with Helloween, Blind Guardian, Gamma Ray, Iced Earth, Symphony X and Nevermore as some of my favorite bands. But about 6-7 years ago that changed, when the world of melodic death metal opened to me! Now I really dig acts like Arch Enemy, In Flames, Soilwork, Dimmu Borgir, Amon Amarth and other bands in that genre. I think it kind of changes the whole time and maybe evolve a little with your personality, and you somehow find inspiration and influences in different types of music all the time….even in non-metal acts too.
SOURCE – What has been the biggest obstacle to overcome as a band from starting out to where you are now?
Kasper Gram (Bass) – It's always tough to build something new from the bottom, even though we have a lot of experience from our many years in the business. There're a lot of bands/labels/agencies etc. out there these days, so you have to be really good in navigating through the whole business from everybody's point of view. You can easily end up with the "wrong" business partner. So you have to be just a little sceptic and use your common sense, to avoid ending up where you didn't really wanted to be.
SOURCE – Do you hit local shows often, and what's happening in your home town metal scene?
Kasper Gram (Bass) – No, not really. Once in a while I'll catch a local show or attend a show of one of the bigger acts when they're playing in Copenhagen. I'm gonna see Iron Maiden in Denmark in June. The metal scene in Copenhagen is quiet okay, and the interest for heavy metal in general is growing in Denmark. E.g. we have the Copenhell festival each year with about 20.000 people attending…..remember we are a small country!
SOURCE – What do you guys do when you're not playing in Killing Gandhi? Are there other bands we can catch you in? And besides that, what do you guys enjoy as a side hobby? Any interesting day jobs?
Kasper Gram (Bass) – Well, only our drummer (Rasmus Schmidt) is in another band right now, playing the drums for Danish death metal act Illdisposed. Besides Killing Gandhi I have a part time job working with kids. Otherwise I enjoy traveling, doing sports, cooking, Geography and History.
SOURCE – Thank you very much for your time, the final comment is yours.
Kasper Gram (Bass) – You're very welcome…..it was a pleasure!
Check out our new album "Aspirations of Failure", and share it with your metal friends, in case you find it really awesome…..if not, share it anyway!