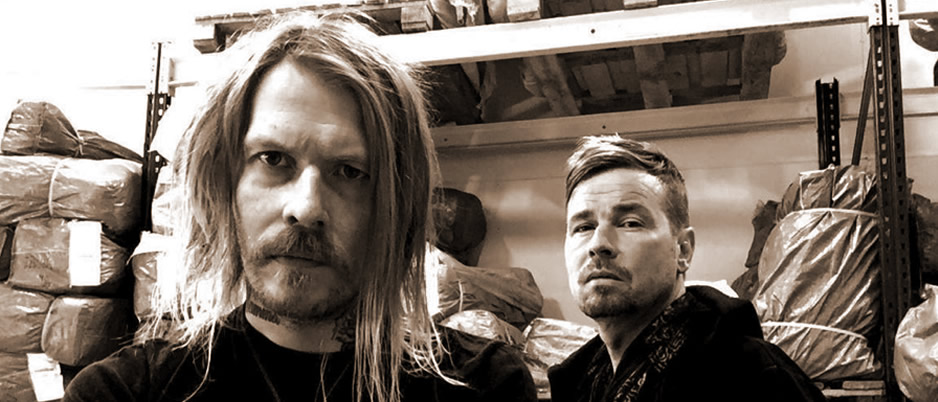 SOURCE – Congrats on your new album Midnight Champion! Are you guys excited for everyone to hear it?
Krummi Björgvinsson (Vocals) – Thank you! Yes, We're very excited for people to hear the album in it's entirety. Consume it with your heart and soul.
SOURCE – What are the lyrical themes and content for Midnight Champion? How was the writing and recording process for the album?
Krummi Björgvinsson (Vocals) – Lyrical themes include life, death, resurrection, redemption, revenge, depression, suicide, earth, anti establishment and mysticism. The writing was seamless and borderline telepathic between me and Dóri. We recorded and wrote the music simultaneously. The live elements like bass, drums and guitar were recorded later in the process.
SOURCE – Can you tell something about the production of Midnight Champion. Where there any complications or did it all go as planned?
Krummi Björgvinsson (Vocals) – The production was very meticulous and well thought out. We had an amazing recording engineer with us who added some extra magic to the live element of the record. It came out better than we expected. The only complication was too much coffee and dealing with our perfectionism but we're used to that.
SOURCE – It can be difficult to hold on to a sound you've become known for while also trying to explore new musical areas?
Krummi Björgvinsson (Vocals) – We let the music guide us at first then we take control and collaborate with the elements. You can't stop things from growing. Never stand in the way of artistic evolution. You have to give yourself the freedom to become better. Even if that means not living up to other peoples expectations.
SOURCE – Do the band have any favourite songs from the album? What are you most excited to start playing live?
Krummi Björgvinsson (Vocals) – We love all the songs equally. Each song has a different emotion that serves as an important part on the album. There's no love without hate. No up without down. No happiness without sadness etc. We look forward performing the album as a whole and pushing ourselves as a live band.
SOURCE – Do Legend have any particular musical influences are the moment? Are there any bands out there at the moment that people really need to hear?
Krummi Björgvinsson (Vocals) – Our main musical influence is life, death, love and hate. The treacherous journey of existence. Musically we urge people to check out GlerAkur, Katla, Sólstafir, Roht, Þeyr, Great Grief, Wormlust, Kælan Mikla, Madonna & Child, Þursaflokkurinn and Trúbrot.
SOURCE – If a metal fan comes to visit Reykjavik, what would they see and do?
Krummi Björgvinsson (Vocals) – They should come to Gaukurinn the best music venue in Reykjavik and Veganæs which serves amazing vegan food. Go the the Einar Jónsson sculpture garden and smoke some Icelandic weed. Soak yourself in the arctic ocean and scream at the top of your lungs. Let the old Gods flow through you.
SOURCE – Any other news you'd like to share with our readers?
Krummi Björgvinsson (Vocals) – Our name is written in block letters: LEGEND It would be a dream come true to perform in Brazil. Promoters heed the call! Love and respect!
Contact:
LEGEND
Streaming:
LEGEND bandcamp
Videos: