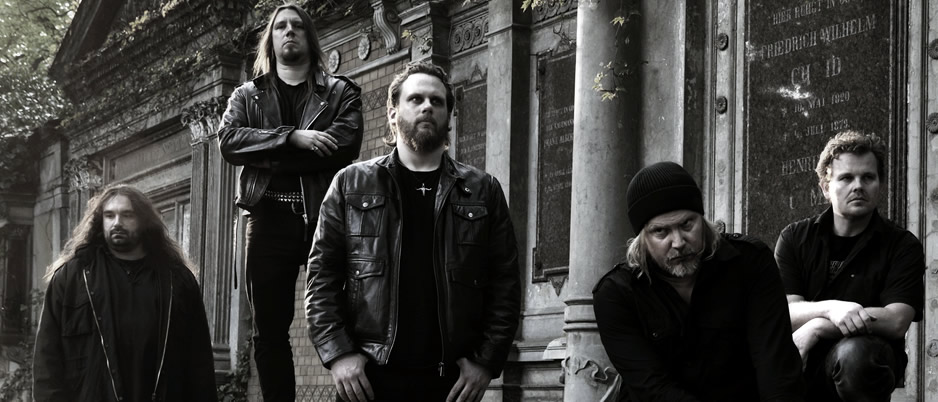 SOURCE – What prompted the return of Morgoth and how did the band members get back together?
Marc Grewe (Vocals) – We got an invitation of the Rock Hard Magazin in 2011 to do an anniversary show for the 20th birthday of the Cursed album… We first were not sure, if we should do it, but then 3 of the old members were into it and so we did it. After that shows we enjoyed it so much, that we continued to play shows, and it became clear, that we wanted also to write new material.
SOURCE – Did you approach God Is Evil differently from Feel Sorry for the Fanatic?
Marc Grewe (Vocals) – Of course! The whole feeling is like going back to the roots of Morgoth… it has nothing to do with the situation we were in in 1997… so the whole vibe (also with new members Marc Reign and Soti) is different.
SOURCE – It's been 18 years since 1996's Feel Sorry for the Fanatic. Why did it take you so long to produce another album?
Marc Grewe (Vocals) – Because we didn't even think and talked about doing a new album… the 20th anniversary of Cursed brought us all back together.
SOURCE – Will there be any other lyric clips or perhaps even full music videos for this seven-inch EP/digital single?
Marc Grewe (Vocals) – No.
SOURCE – What sort of lyrics are sported on God Is Evil?
Marc Grewe (Vocals) – It deals with the whole situation that everything 'evil' can be releated to Religion. It is more metaphorical than just a 'satanic' phrase…
SOURCE – How has the response been so far that you've seen from fan comments and online magazine reviews?
Marc Grewe (Vocals) – So far, we just saw and heard very positive responses, so we are really glad, that the fans like our new stuff!
SOURCE – What other musical projects have the Morgoth guys got going on right now?
Marc Grewe (Vocals) – I have Insidious Disease going (a project together with Silenoz, Shane Embury, Jardar and Tony Laureano)… nothing else from the others though.
SOURCE – What are some of your favorite metal releases releases this year, and what's coming soon that you are looking forward to?
Marc Grewe (Vocals) – I really like the new Solstafir album Otta… looking forward to the new Skeletal Remains album.
SOURCE – What can we expect from the upcoming Morgoth album?
Marc Grewe (Vocals) – We just came back from a tour together with Bolt Thrower and we will enter the studio in November. The whole vibe on the album will be special and it will be probably the 'most-complete' Morgoth album ever!
SOURCE – Please feel free to add a last comment?
Marc Grewe (Vocals) – I really hope we can finally play Brazil in 2015… we have a lot of fans writing us and I really hope there will be chances to bring the band over! Fingers crossed! The album will be released in early 2015 and it would be great to play the new stuff in Brazil
aswell! Prost to all our fans down there… see you in the Pits Of Utumno!
Links:
Video: