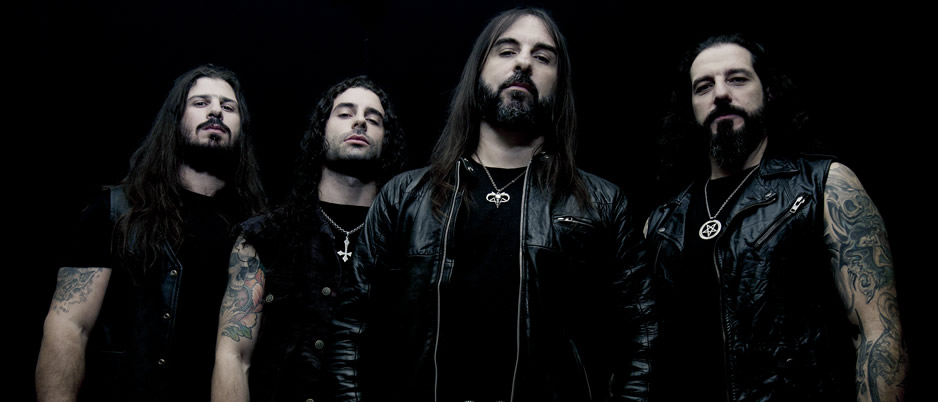 SOURCE – Even though the band has been at this for years, was there a song on Rituals that stands out as one of the most challenging to write or complete? Is there a song where the end result was totally worth the time and energy expended on it?
Sakis Tolis (Vocals/Guitar) – I do not think so… Being the only composer of the band each song took me a lot of time to think to create first into my mind and then to record it. I had a deep dive into the dark side of my self for each song separately and all of them have a special place in my heart.
SOURCE – Is there one specific thing that you want fans to know about Rituals?
Sakis Tolis (Vocals/Guitar) – RITUALS is the less riffing ROTTING CHRIST album ever but the most lyrical and dark concept ROTTING CHRIST ever. This is the album number 13 and as we always do we still provide surprises album by album…
SOURCE – What is your main source of motivation to keep making music that is this aggressive and physically taxing? What keeps you in this game at this point?
Sakis Tolis (Vocals/Guitar) – Yes this is what I am wondering after almost 30 years… I do not know man maybe creating music is my ticket to escape from this world and I can not live without this. I cant think somehitng else.
SOURCE – Why did you do the recording of all the instruments yourself?
Sakis Tolis (Vocals/Guitar) – Except drums that my brother did… I almost do that in all ROTTING CHRIST albums. I save time and I express my self as I really want as me and my brother are the only stable members since the beginning of the band. Of course the rest of the members help me a lot with the live conditions and I am glad especially with the last guys that everyone says that ROTTING CHRIST are currently at their best on stage!
SOURCE – What was the first album you remember hearing that influenced you to pick up a guitar and start a band?
Sakis Tolis (Vocals/Guitar) – IRON MAIDEN – THE NUMBER OF THE BEAST and the album to create a band CELTIC FROST – MORBID TALES.
SOURCE – You're one of the most talented musicians I've ever had the pleasure of speaking with. What inspires you to be as amazing of a musician as you are, both in the studio and onstage?
Sakis Tolis (Vocals/Guitar) – Really am I? If you say that I have no reason to doubt and to express my honor that my music speaks to your soul. Composoing creating my own world escaping from this misery life make me keep on creating new songs and melodies. I am this kind of person maybe… I do not soulful maybe. I base a lot to the
soul and I express this with my music.
SOURCE – What are some of the most influential black metal and death metal bands for Rotting Christ?
Sakis Tolis (Vocals/Guitar) – BATHORY and CELTIC FROST are tattoed in my soul sincere the early days!
SOURCE – The band is based in Athens, one the cultural centers in Greece. How does the city, its history and all the cultural things going on influence you as a musician and as a human being?
Sakis Tolis (Vocals/Guitar) – Definitelly our education has influenced us as individuals and as persons and that maybe reflected to our music. Of course modern cities even if they are called Athens or Rome or whatever can not give you the right vibe except and if you work hard on the culture issue by yourself. This is what I do wherever I go with my band. I am not a typical tourist but I get deep into the culture of each land I visit. This is what I do with Athens.
SOURCE – What are some memories of playing a few shows in Brazil?
Sakis Tolis (Vocals/Guitar) – I always spread my memories about Brazil wherever that your land your metalheads are one of the best worldwide because you guys keep the spirit alive… Hey and this is not a complement or something…
SOURCE – Anything you wish to add to conclude this interview?
Sakis Tolis (Vocals/Guitar) – BE TRUE TO YOUR OWN SPIRIT and KEEP YOUR LOCAL SCENE ALIVE. Until next time we will meet up! NON SERVIAM.
Link:
http://www.rotting-christ.com
Video: