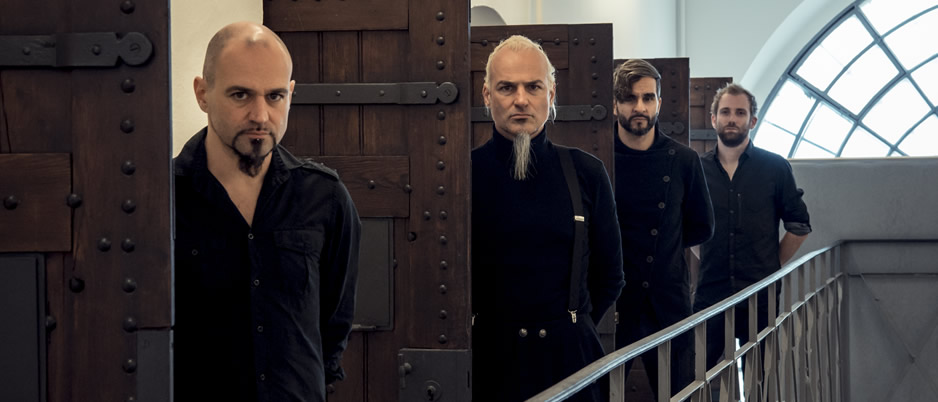 SOURCE – What's your mindset when it comes time to writing a new album? Is there an internal drive to best what you have done previously?
Michael Vorph Locher (vocals, guitar) – There's somenting of this, of course we always want to up-scale our game and make an album that is better than everything we've ever done before. But there is more to it, we don't have control on our inspiration but there is moment when it comes knocking and it is hard to resite that call. So when new powerful ideas come to us we know it is time to site down a make a new record. We don't really look for new things, they come to us.
SOURCE – How important are the orchestrations in contrast to the rest of the band?
Michael Vorph Locher (vocals, guitar) – Since Ceremony of Opposites the orchestations have always had an important place in our music. Maybe it is a bit more pre-dominant on Hegemony as Xy spent a year, prior to the finalization of the album, working on a project called Sedunum that he did for the city of Sion in Swizerland where, for the first time, he has worked and recorded with a full orchestra.
SOURCE – It's been six years since Lux Mundi was released. Any reason behind the time-span between albums?
Michael Vorph Locher (vocals, guitar) – Most of the songs were ready to be recorded in 2013 but we took a one year break in the album so Xy could work on the project I just mentioned. Beside that, we had a line-up change and when Drop joined the band as the new bass player we booked a few show around "Ceremony of Opposites" in Canada and Switzerland to consolidate the synergy of the band and celebrate the 20 more years of the album release. As more and more offers came in, we spend 2 years playing Ceremony of Opposites entirely in most of the Metal Festival in Europe as well a few small tour in Russia and Poland before recording and mixing the album last summer. The time to find the right record company to release it and 6 years are gone.
SOURCE – How do you feel that the band has changed in those six years in between albums?
Michael Vorph Locher (vocals, guitar) – Since Drop joined the band the forcus has been back to the music. We rehearsed more and for longer time which ultimatly had a positive influences on our sound. We sound better today than ever before and it's up-lifting to see we can still progres on a big scale after all those years playing music.
SOURCE – You've certainly established a mood across the album; however, a song like Black Supremacy really stands out. What's the story behind it? Could you also discuss a little bit about the video for Black Supremacy?
Michael Vorph Locher (vocals, guitar) – This is the fastest song on the album, something not too far from our album Above (2009). I wanted for a long time, to write an anthem about the color black. We did have a few songs coming close to it in the past but I've got the feeling this time we have it. The video was done with a friend of us that Mak knew for a long time, the three of us spent a night shooting the video, then Mak and Marki spent about a week to edit it.
SOURCE – How did you decide to cover Helter Skelter on the bonus track?
Michael Vorph Locher (vocals, guitar) – That song means a lot to us. We see it as the prototype of all the music that had an influence on us. It was metal before metal existed, it was punk before punk, industrial… you name it. We knew it has been covered by many bands before so we checked those cover to see if we could come up with something different and somehow make this song our own. This is a tribut as well as an appropriation.
SOURCE – After being a part of the Century Media and Nuclear Blast roster for so long, what does it feel like to be on Napalm Records – do you see major differences in terms of the staff, promotional aspects, and support/suggestions they give to the band?
Michael Vorph Locher (vocals, guitar) – We had good relation with our previous record companies but we never had as much attention from a record company as with Napalm. They love the album and are 150% behind us, that's a great feeling and a good start.
SOURCE – Do you have any plans of a South America and Brazil tour?
Michael Vorph Locher (vocals, guitar) – We'll play in Bogota in November and we hope to come back to South America for a proper tour next year.
Site:
Samael
Videos: