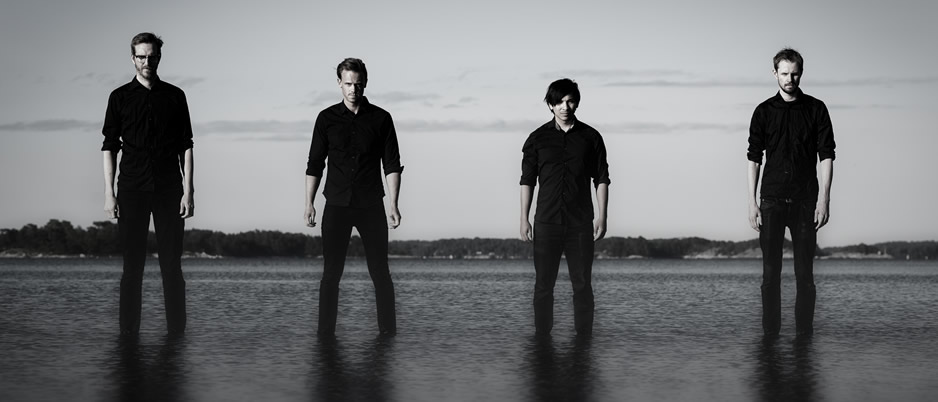 SOURCE – You have a new record The Comfortable Low. How do you feel about the tunes on this new record?
Victor Wegeborn (Vocals, Guitar, Programming) – For me, the two songs represents two different sides of us. "Still Life Slumbers Here" reflects the past and is more in tune with our old stuff, while "This Providence of Bones" tells of a possible future sound. "Still Life…" is kind of my personal homage to the brilliant piece "In the House, In a Heartbeat" by John Murphy, while Providence is just more who I am musically. I produce a lot of electronic music which tend to influence the writing i do for The Moth Gatherer. This is how Providence came about.
Alex wrote wonderful lyrics to both pieces, apart from the lyrics sung by Dennis Lyxéns. They complete the tracks in way i could never have done myself. So, just like in the past, and in the future, the tracks reflects us as individuals and the musicians we are.
SOURCE – Nowadays in every album the person responsible for the sound production is strongly mentioned especially when he is a known one. How important do you think is the producer to the sound of a band?
Victor Wegeborn (Vocals, Guitar, Programming) – On the first record, me and Alex co-wrote and produced everything in my childhood bedroom. I did the mixing for the fist record, while Karl Daniel Lidén (or KDL as we like to call him) did the mastering work. The later record, "The Earth Is The Sky" and "A Comfortable Low", was both mixed and master by KDL.
Karl Daniel has become a big part of our sound, especially on the later records. He is able to take both acoustic and electronic sounds to the next level, and he understands where we want to take our music. I remember when i got the first mix of the track "Dyatlov Pass". I was blown away by the atmosphere he managed to squeeze out of my creation.
The producers role is so undefined. I would probably say that I, with my fellow bandmates are the main producers of our music. The sound however, is a product of different people, different places and technologies.
SOURCE – Do you think the band has found an established sound that is all their own or do you think the music will always evolve and keep progressing?
Victor Wegeborn (Vocals, Guitar, Programming) – That is a hard question and somewhat philosophical. I believe the individual never converges to a final state, but rather is under constant change due to the world around it. This becomes one of the most fundamental factors when writing and producing music. New skills, new influences, new technologies and different mental states, are some of the major factors that has an impact on the final product – the music.
Whether the music progresses or regresses is even harder to answer. Every piece of music reflects the writer momentarily. Therefore, nothing can be said about the future sound of the band. We can only hope that people like what we put out.
SOURCE – What do you think of how recording technology has changed and how people use that technology to record music?
Victor Wegeborn (Vocals, Guitar, Programming) – I love it. My mom got me a computer and a AD/DA-converter when I was around sixteen, and I became instantly hooked on writing and recording music. For me, it creatively gives me more freedom, but also suffocates the creativity at the same time. I can play around with synthesizers, try different harmonizations and melodies at home, cheaply, thanks to software simulations of pricy hardware. All the while i become more and more picky of the sounds I'm playing around with. This kind of freezes my ability to move on, rather then to focus on the harmonization and arrangements with a song.
All guitars, bass, electronics and vocals has been recorded with my home studio setup for all of our records. So, in a sense we owe the technological progression our thanks, because without it, there would most likely be no The Moth Gatherer.
SOURCE – With the state of the music industry these days, how do you even set expectations for how you think the record will do?
Victor Wegeborn (Vocals, Guitar, Programming) – We don't. We just hope that people will like our music as much as we do. If we write music that is honest and true to who we are, then maybe there are others like us, that will relate to it. We want to stay humble and keep our down-to-earth way. Expectations contradict that philosophy.
SOURCE – Was the Swedish market ready to support and embrace a band with a sound like yours?
Victor Wegeborn (Vocals, Guitar, Programming) – That is a complicated question. Sweden has a great alternative scene, but to come as a new band and break through the white noise is hard, whatever genre you are playing. With that said, I think that we have gotten amazing support from the scene! But we are not done yet, we will create, we will prosper and we will reach the far ends of the scene we have in Sweden.
SOURCE – How is the alternative scene in Sweden, any bands to propose?
Victor Wegeborn (Vocals, Guitar, Programming) – I would say that we have a really thriving scene with a lot of great bands and DIY attitude. Some great bands I can recommend are This Gift Is A Curse, Gloson, VAKA, Terra Tenebrosa, Domkraft and many more.
Contact:
Videos: