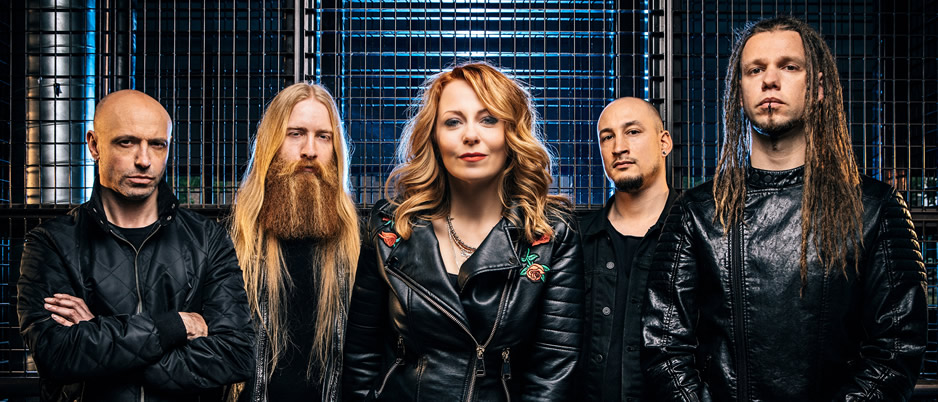 SOURCE – There's a slew of different musicians that helped out on the album. How'd it all come together?
Anneke van Giersbergen (Vocals) – We recorded at Sandlane Studio's in Rijen, Holland. Joost van den Broek and I wrote the songs together, with some amazing co-writes from our guitar players Ferry and Jord, and also from Mark Holcomb – Periphery, Esa Holopainen – Amorphis and Daniel Cardoso – Anathema. Joost produced and mixed the album as well. I wanted a guitar oriented album. No big orchestra's or anything like that. A pure rock, metal and progressive sound. With all the instruments crystal clear in the mix where the melodies and the energy of it all could take the lead. Joost and I talked a lot about the sound and the direction, and he truly made it happen with his knowledge and creativity. When the band stepped in and learned and recorded the songs, all the songs got an amazing kick in the butt!
The guys in the band are such good players and they all have their own character that they put in to the music. I am so happy with these wonderful musicians around me.
SOURCE – What kind of potential do you see in Vuur? Could it evolve into having a full lineup with possible live dates?
Anneke van Giersbergen (Vocals) – Of course. VUUR is a band with a steady line-up and we will tour from next month all troughout 2018 with this album.
SOURCE – Could you talk about the lyrical inspirations for In This Moment We Are Free – Cities?
Anneke van Giersbergen (Vocals) – The lyrical theme of the album is about a collection of cities that I have a connection with. As you know I travel a lot. We go to so many places every year to tour, and I found that in every town or city there is a different vibe and energy and that these places have a big influence on my state of mind. Which means that in a lot of cases I was inspired to write new music and lyrics. For a long time I wanted to create songs about the actual cities and now, with this heavy band I felt I could actually make this album with this concept.
SOURCE – How much of a role did Joost van den Broek, play in the album's sound?
Anneke van Giersbergen (Vocals) – A big role indeed. He and I wrote the songs, he produced and mixed the album. Joost is a great composer and wonderful to work with. He's dedicated and puts his heart into whatever he is working on.
SOURCE – What can you say about the recently released Freedom – Rio video?
Anneke van Giersbergen (Vocals) – Well, the video is not that interesting, other than the fact that it is very nicely made for a static, but the song is one of my favorites. It has a melancholic feel, which I like, and it has a wonderful heavy chorus. It is a positive song.
SOURCE – What does the metal genre mean to you? Who are some of your favorites in terms of artists or albums that really generate the strength and vitality within this genre?
Anneke van Giersbergen (Vocals) – I love it. Metal has no taboes, no limits. It is a free culture and the people who create it, and the people who listen to it, are more like brothers and sisters. We understand each other. I love bands like Gojira, Mastodon, Devin Townsend and Ayreon.
SOURCE – What are some of the biggest lessons you've learned when it comes to band chemistry and friendships – and how do you handle conflicts that may come up either in the studio or while on the road?
Anneke van Giersbergen (Vocals) – Band life is like a marriage. You have to learn to communicate and have the will to understand each other. Every person is different, has a different character and background. There will always be collisions of some sort. The key is to try to see things from different perspectives and come to a mutual understanding and agreement.
SOURCE – Do you have any plans of a South America and Brazil tour?
Anneke van Giersbergen (Vocals) – Oh yes, we are working on coming back for sure in 2018. I can't wait. I love South America! I hope to see everybody on the road soon!
Contact:
Videos: